Welcome to the Board of Commissioners
Welcome to the Board of Commissioners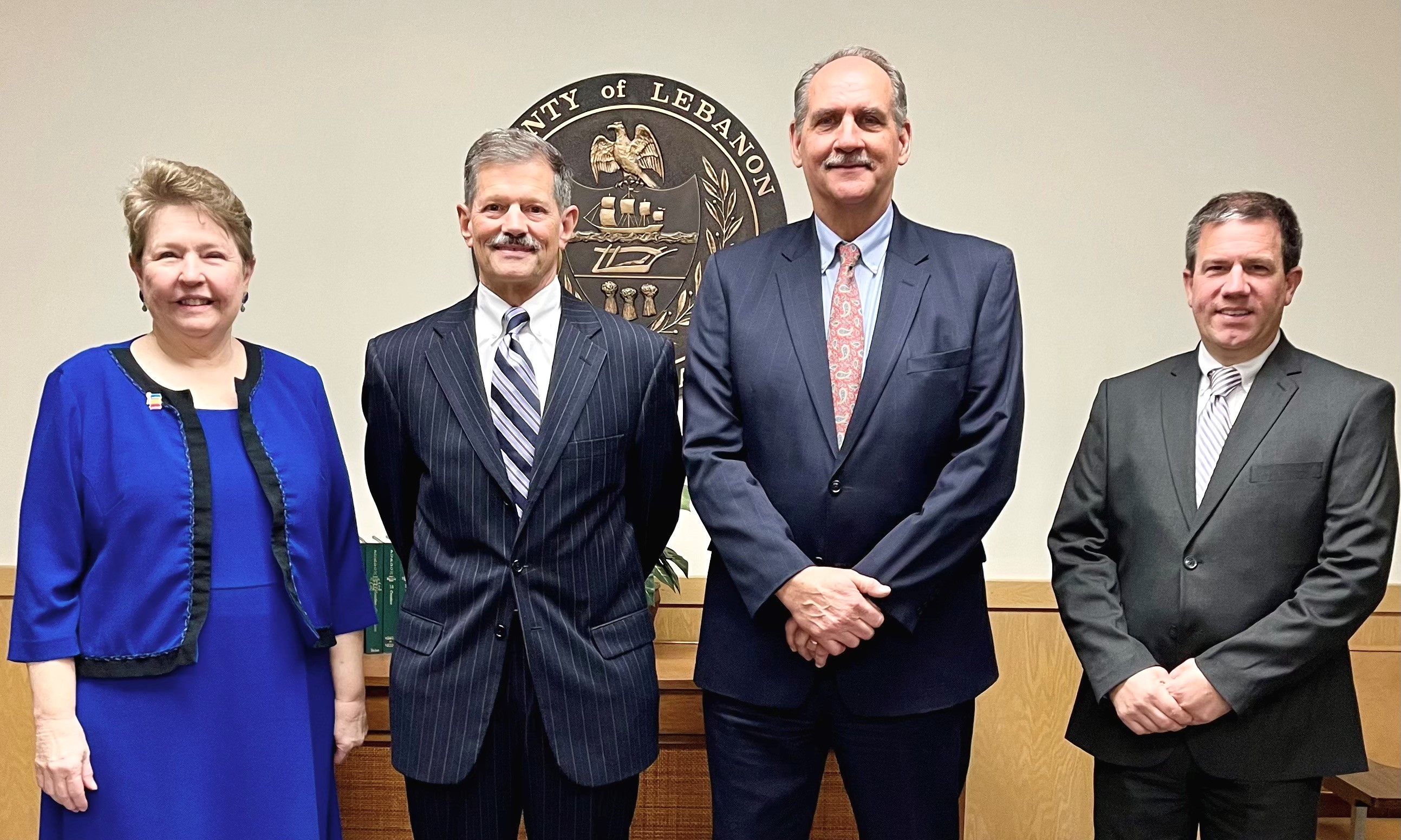 Jo Ellen Litz, Secretary, Robert J. Phillips, Chairman, Michael J. Kuhn, Vice Chairman, Jamie A. Wolgemuth, Chief Clerk/County Administrator, David R. Warner, Jr., County Solicitor *Not PicturedThe Lebanon County Commissioners are dedicated to providing public service to the community to protect, restore and improve the quality of life in Lebanon County. Functioning as the Executive and Legislative Branches of government, the County Commissioners and their associated agencies commit themselves to the leadership and service required in pursing activities beneficial to the citizens of the County of Lebanon.
The Board of County Commissioners constitutes the chief governing body of the county. Statutory authority of the Commissioners is primarily of an administrative nature with legislative or policy-making powers. The County Commissioners are, in effect, the business managers of the county. The corporate powers of the county are vested in the commissioners; they have custody of the official seal; and legal process against the county is served upon them.
Administrative powers of County Commissioners include voter registration and elections, assessment of property for tax purposes, human services, veteran affairs, appointment of county personnel and fiscal management. The Commissioners constitute the County Board of Elections, the Registration Commission, the County Retirement Board and the County Board of Assessment Revisions.
The Commissioners are elected for four-year terms, with the terms of the three Commissioners running simultaneously. The three candidates who receive the highest number of votes in the general election are named Commissioners. Since no voter may vote for more than two candidates in the general election, the voting process always results in the election of two majorities and one minority party Commissioner.
Regularly scheduled meetings to transact county business are held every first and third Thursday of the month in Room 207 of the Lebanon County-City Municipal Building, Lebanon, Pennsylvania beginning at 9:30 A.M.
Resources and Information
Parks and Recreation
The Board of County Commissioners are the overseers of Monument Park, Governor Dick Park and Lebanon Valley Rails-to-Trails recreation areas in the County of Lebanon.